Personal Licence Training
'Award for Personal Licence Holders' (APLH) – Level 2 Training
The UK's No.1-rated personal licence training, from the hospitality industry's highest-rated APLH course provider – Inn-Dispensable. We're proud to have more positive online reviews than all of our competitors combined since being established 26 years ago!
Details About Our
Personal Licence Courses
Inn-Dispensable's 1-Day APLH Course
100% BII & Government Approved Courses.
Personal Licence Exam Included
(40 minutes long, with multiple-choice questions).
Mock Exam Included.
A Free Resit is Included.
Lunch & Refreshments Included.
Free Parking and Wi-fi at 95%
of our Training Sites.
Receive your Personal Licence Certificate
Within 14 Days.
All Courses Conducted by Highly-experienced, Friendly Tutors.
45 Training Sites Nationwide.
Everything you need to know to apply for a personal licence
Our APLH training course covers everything you need to know to pass the exam and gain the BII-endorsed APLH qualification – which will enable you to apply for your personal licence. It covers the syllabus set by government to enable candidates to understand the law in relation to:
the roles, responsibilities and functions of licensing authorities within the framework of the licensing objectives
the application process for a personal licence
the role and legal responsibilities of the personal licence holder, and the penalties relating to failure to comply with the law
the premises licence
the content and purpose of operating schedules
the role and duties of the designated premises supervisor
unauthorised and temporary licensable activities
rights of entry to licensed premises
police powers with regard to suspension and closure of licensed premises
the specific prohibitions for the sale of alcohol
the strengths of alcoholic drinks, and the effects of alcohol on the human body
the protection of children from harm
the responsible retail sale of alcohol
The BIIAB APLH exam will always contain questions on the essential areas of knowledge:
the sale of alcohol to and the consumption of alcohol by children
serving a person who is drunk
the licensing objectives
the duty of a personal licence holder to declare relevant offences
rights of entry of authorised persons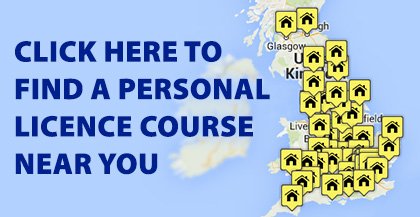 Please see our FAQs page for further details about our APLH course, the Personal Licence exam or the licence application process – or call our friendly office team on Freephone 0800 074 1583.



Alternatively, you can even learn in your home or workplace with an Online Personal Licence Course